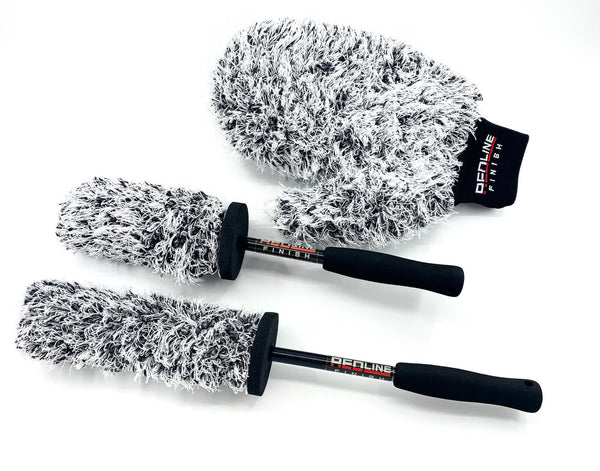 WHY THEY WORK SO WELL
TOP SHELF QUALITY - Our Wheel Woolies Wheel Brushes and Wheel Wash Mitt consists of the finest Korean Microfiber in the industry creating an amazing wheel washing experience
UNIQUELY DESIGN WHEEL BRUSHES AND WHEEL WASH MITT - The 17" wheel brush gets deep into the wheel barrel, the 13" wheel brush is flat to gets between the wheel barrel and brake caliper, and the wheel mitt with its large surface area washes the face of your wheels quickly
FASTER & EASIER WHEEL WASHING - These premium microfiber wheel cleaning brushes and wheel wash mitt makes it super easy to wash the wheel barrel, spokes, brake calipers, etc. It gets in places traditional wheel brushes can not
SCRATCH FREE WASHING - Don't use just any wheel cleaning brush to wash your wheels. A microfiber wheel brush and microfiber wheel wash mitt is best as they won't scratch and are most effective at removing brake dust and grime. 

ENGINEERED FOR RESULTS - 

We spent a lot of time in the development of our premium wheel brushes and premium wheel mitt for fast and effective wheel washing giving you a better experience
PRODUCT DESCRIPTION
Take your Wheel Washing to the next level with our premium microfiber wheel woolies wheel brushes and wheel wash mitt. This is the most well thought out and designed wheel washing kit on the market today.
Our microfiber wheel brush set and microfiber wheel wash mitt are focused on one thing and that's results. We recently updated the wheel woolies wheel brush set that now include: thicker knuckle guards and the smaller wheel brush is thinner than before to get into smaller spaces between the brake caliper and wheel barrel of about 1-inch. 
Once again we used the finest Korean Microfiber in the industry specifically designed for wheel washing. We spend a lot of money on custom wheels and take a lot of pride in them so why not use the best wheel washing kit in the industry for washing them?
If you are a detailing fanatic like we are or a weekend warrior that is meticulous about every step in the car detailing process you understand the importance of only using top shelf quality car care products when washing your wheels like our wheel cleaning brushes and wheel wash mitt.
CARE INSTRUCTIONS
Wheel Mitt:
Wash the premium microfiber wheel wash mitt in warm water




Use a perfume & dye free liquid laundry soap




Rinse the wheel mitt throughly in warm water to remove all soap prior to drying Line dry



Wheel Brushes:
Wash the premium microfiber wheel woolies wheel brushes

 in warm water using a perfume and dye free liquid laundry soap

Rinse the wheel brushes throughly in warm water to remove all soap prior to drying. Line dry each wheel brush

Wheel cleaning brushes may be lightly spun back and forth between your hands to open the fibers back up