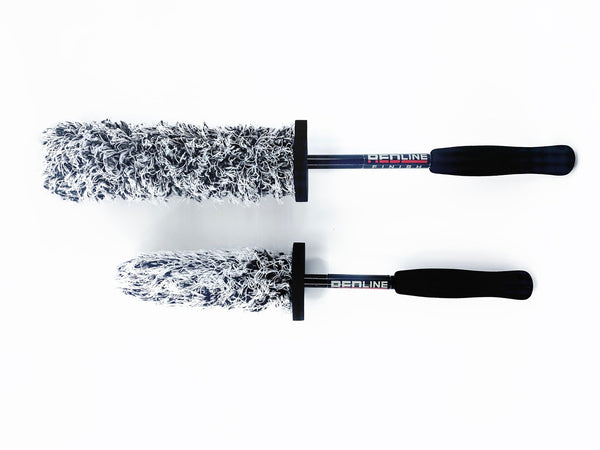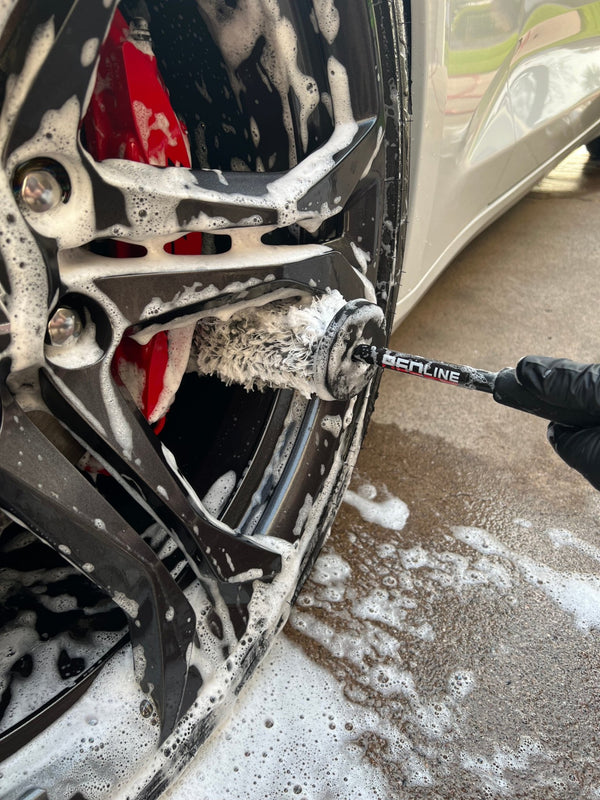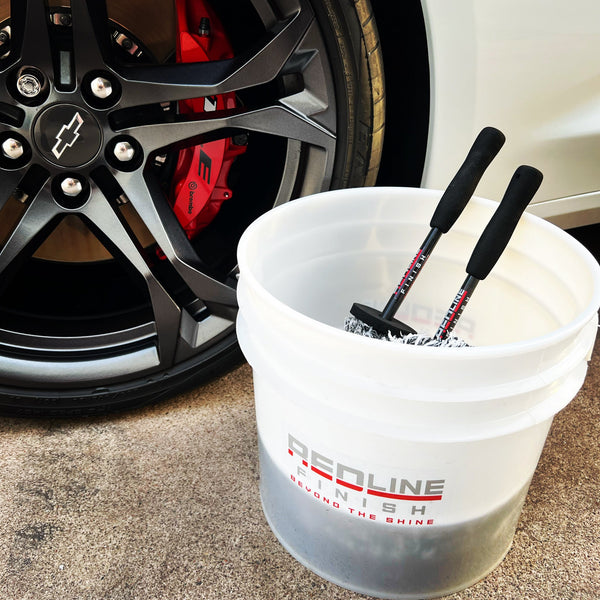 THE "DUO" ULTIMATE MICROFIBER WHEEL BRUSH SET
WHY THEY WORK SO WELL
TOP SHELF QUALITY - Our microfiber wheel brushes are all about results! They consists of the finest Korean Microfiber in the industry specifically designed for wheel washing
TWO UNIQUELY DESIGNED WHEEL BRUSHES - The 17" wheel woolie wheel brush gets deep into the wheel barrel. The 13" wheel woolies wheel brush is flat and fits between the wheel barrel and brake caliper (up to 1" gap) eliminating the need to roll your car forward to get the area of the wheel barrel that was behind the brake caliper, this saves a ton of time!
NON SLIP HANDLE - There is nothing worse than using a tool that your hand slips off of. We took the time do it right and use a non slip material so you can wash your wheels quickly and effectively
FASTER WASHING - These premium wheel brushes 

makes it super easy to wash the wheel barrel, spokes, brake calipers, etc. Our wheel brush set gets in places a traditional wheel cleaning brush can not

SCRATCH FREE WASHING - Don't use just any wheel cleaning brush to wash your wheels. A microfiber wheel brush is best so they won't scratch and are most effective at removing brake dust and grime 
ENGINEERED FOR RESULTS - We took the time with the development of these wheel cleaning brushes to make washing the wheel barrels fast and effective creating a better wheel washing experience 
PRODUCT DESCRIPTION
Our premium microfiber wheel woolies wheel brushes have been designed in the USA and are the perfect brush to clean wheels. They have been designed in the USA with a focus on fast and effective wheel washing.
We went back to the drawing board on our first generation wheel cleaning brushes and re-engineered them to be better than ever! We made the knuckle guards thicker to give a little more protection from hitting your knuckles on the wheels when moving the wheel brush back and forth. The 17" wheel brush gets deep into the wheel barrel to wash them and the 13" wheel brush we made flat to work nicely between the brake caliper and the wheel barrel (will fit in about a 1" gap). The days of having to get back in your car and roll it forward so you can wash the area of the wheel barrel that was behind the brake caliper are long gone with our flat wheel brush!
We use the finest Korean Microfiber in the industry specifically designed for wheel washing. These wheel brushes are the perfect addition to our wheel wash mitt.
If you are a detailing fanatic like we are or a weekend warrior that is meticulous about every step in the detailing process you understand the importance of only using premium quality car care products like The "DUO" Ultimate Microfiber Wheel Brush Set.
Looking for a microfiber wheel wash mitt to complement this wheel cleaning brush set? check out the Redline Finish The "ACE" Ultimate Microfiber Wheel Wash Mitt here.
CARE INSTRUCTIONS
Wash the premium microfiber wheel brushes in warm water using a perfume and dye free liquid laundry soap

Rinse wheel brushes throughly in warm water to remove all soap prior to drying. Line dry each wheel brush. 

Brushes may be lightly spun back and forth between your hands to open the fibers back up